Wheeeee! Two weeks at the same time.
Monday, February 27th, 2012
This was exciting me so much.
Tuesday, February 28th, 2012
The first episode of the Knutsens in German was being taped. We talked about Mountain Lion, Ze Frank, green goo and Twitter clients.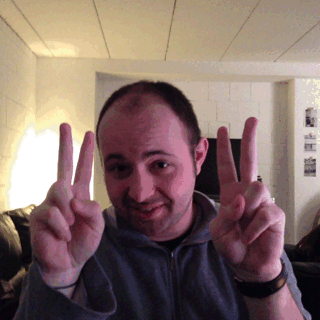 Wednesday, February 29th, 2012
I counted my objects on different websites.
In the evening I had an almost religious experience while listening to this episode of Back to Work.
Thursday, March 1st, 2012
Following up to that, I went to the DIY store and bought a lot of garbage bags. I pulled almost everything from the shelves onto the floor – and then realized the recycling laws here. I can't just put everything into big black garbage bags and put them out when the garbage trucks come along.
Friday, March 2nd, 2012
I don't remember doing anything that day. I went to work and back, probably watched Parks and Recreation in the evening.
Saturday, March 3rd, 2012
Throw away all the things!
Sunday, March 4th, 2012
I drove to Köln with Lara to visit Dominik for breakfast. Relaxed day.
Monday, March 5th, 2012
I drank a lot of coffee, enjoyed my Rennmauskalender and told the world how to watch the first season of Game of Thrones.
Tuesday, March 6th, 2012
I tried Highlight. And later on I taped another episode of the Knutsens. We talked about clutter, Lightroom 4 and feedreaders.
Wednesday, March 7th, 2012
Schnittchen-time! The first ever official episode of Draußen nur Schnittchen happened. Jan Manuel tells me all about his adventures in the world of online dating and I smile politely and offer exposition.
Thursday, March 8th, 2012
I've felt mostly sorry for myself all day. Just one of these days.
Friday, March 9th, 2012
I sat in a little Peugeot all day with my aunt and her boyfriend because…
Saturday, March 10th, 2012
… on Saturday my baby sister Linda had her baptism.
Sunday, March 11th, 2012
And on Sunday, we drove back.